Support the Native Americans protecting the land!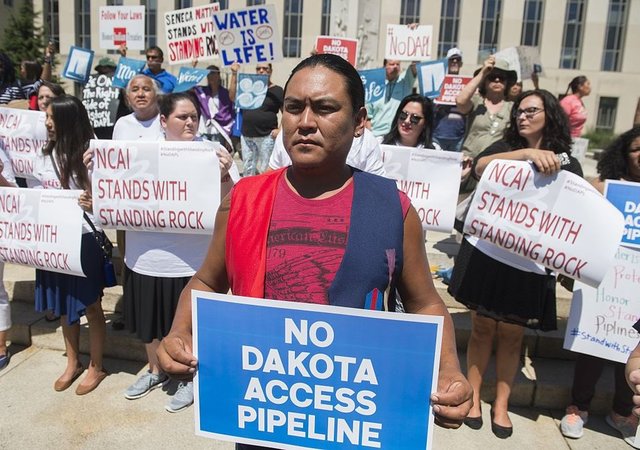 Rally at the Town Clock in Santa Cruz
Tuesday, Sept. 13 - 5:00-6:15
Join us to call on President Obama to instruct the Army Corps of Engineers to revoke the permits for this dirty oil pipeline.
If you can't come to the rally, support the encampment here: www.gofundme.com/sacredstonecamp And you can help fund their legal expenses here: https://fundrazr.com/d19fAf?ref=ab_35w6Td.
Another oil disaster in the making! The Dakota Access pipeline would carry 450,000 barrels per day of fracked oil from North Dakota to Illinois - cutting through sovereign tribal land and crossing under the Missouri River.
In response, an inspiring opposition - led by the Standing Rock Lakota and Dakota Sioux - has emerged. Many tribes have joined, making this the largest gathering of Native Americans in recent memory. This grassroots force is employing civil disobedience and a robust legal strategy to halt construction on this toxic tube.
The movement to stop the Dakota Access Pipeline is growing stronger by the day, and it's time for all of us to rise up and play a role in this fight - no matter where we live. Join us at the Town Clock to call attention to the brave water and land protectors at Standing Rock, and send a message to President Obama to permanently stop the Dakota Access Pipeline.
This is necessarily quick notice, but we want to stand in solidarity with the events all over the country led by allies who stand in solidarity with Standing Rock and indigenous communities fighting on the front lines.
Please help spread the word on social media, and be sure to invite your friends. If you can, come take photos and submit them and tag on social media with #NoDAPL so that we can tell the story of all those standing with the Standing Rock Sioux and tribal allies against the Dakota Access Pipeline.
And if you can, bring art and banners -- some sample messages could be: People over Pipelines; #NoDAPL;, In Solidarity with Standing Rock; Obama: Stop the Dakota Access Pipeline!
Contact rsolick@gmail.com for more information.
Let's elevate frontline resistance to fossil fuel projects fueling the climate crisis, grow the climate movement, and stop this pipeline.

Santa Cruz Women's International League for Peace and Freedom, Earth Democracy committee.

Use rich text editor Multiple item entry (Return separates items)