Live Oak, California - A proposed pay cut for Central firefighters has been delayed to August as contract negotiations continue, labor leaders said this week.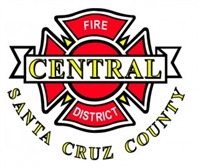 In May, the Central Fire Protection District Board of Directors voted to cut its firefighters' base pay 7 percent starting in July and require firefighters to pay back 7 percent of their base salary for the past 12 months. The decision came with a caveat: If Central Fire and its labor union could negotiate a new contract by mid-July, there would be no pay cut or retroactive pay cut.
Anthony Cefaloni, president of IAFF Local 3605, said Tuesday that the pay cut has been extended until Aug. 13 as contract talks continue.
"While nothing has been formally approved I would say we are cautiously optimistic we can come to an agreement," Cefaloni said. "It appears we are making positive progress."
Cefaloni said more negotiations are scheduled this month with Central Fire leaders and its labor negotiator, Jack Hughes of the Liebert Cassidy Whitmore law firm in Sacramento. Hughes did not immediately return a call seeking comment Tuesday.
Central Fire serves Capitola, Live Oak and Soquel. No disruption in service is expected.
Central Fire Chief Jeff Maxwell said during a packed May 26 Central Fire Board meeting that the move was prompted in part by the Fire Department's long-term projected deficit. It faces more than $30 million in unpaid liabilities related to health care and retirement benefits, according to a recent audit. The move would save the district $360,711.
Central firefighters pay for none their health care benefits in all but three of the eight health plans they are offered, Cefaloni said. He said Tuesday that firefighters now are willing to pay a greater share of their health care costs and that is part of the contract negotiations.
The union represents 46 firefighters, captains and battalion chiefs at Central Fire. Firefighters' base pay ranges from about $77,000 to $94,000, according to public records.
Central Fire Board Members Bruce Bettencourt has said that including health care benefits and pensions, the fire district pays more than $100,000 annually for nearly every firefighter.
"We're getting some movement, and that's a good thing," Bettencourt said Tuesday of contract talks.
Bettencourt said the Central Fire Board's drive to be fiscally responsible is because the board serves taxpayers as well as firefighters.
"Hopefully this will all work out and everything will get back to normal," said Bettencourt.
Cefaloni said Tuesday that if a contract agreement is reached and its union members are satisfied with it, the Central Fire board might consider a new contract at its next meeting at 7 p.m. Aug. 9. It takes place at Central Fire's administration building at 930 17th Ave. in Live Oak.
by Stephen Baxter, Santa Cruz Sentinel - 7/20/16

Use rich text editor Multiple item entry (Return separates items)