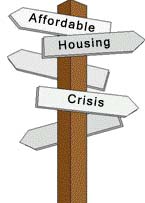 Tools for Housing Affordability
Vu Bang Nguyen and Bob Allen presented their perspectives from work they are doing in the SF Bay Area. Nguyen works for the Silicon Valley Community Foundation, and Allen works for Urban Habitat, a Bay Area non-profit devoted to increasing the power and capacity of low income communities in the Bay Area.

Impact fees for housing
Santa Cruz has traffic impact fees on new development. The rationale is that new development increases traffic. The fee goes to make capital improvements to roadways. A similar fee is charged to new development for capital improvements to the water system. Some communities in the SF Bay Area have housing impact fees that are charged for commercial development, residential development or both. Most cities have had to eliminate their rental inclusionary requirements after the Palmer v. Los Angeles court case in 2009, which found that rental inclusionary zoning requirements violated California's prohibition on rent control. Impact fees are the most common method of reinstating an affordable housing requirement for rental developments. The Association of Bay Area Governments (ABAG) explains Commercial Linkage Fees: "A portion of jobs created by new commercial development --hotel, retail, office, etc. are low paying and the new employees cannot afford market rate housing. With commercial linkage fees, also known as job-housing linkage fees, developers are expected to ameliorate some of the housing impacts generated by such projects. This impact is measured through a Job-Housing Nexus Analysis that shows the connection between the construction of new commercial buildings, employment, and the need for affordable housing." For more information on commercial linkage fees scroll to next article.
Regional Coordination of Fees
If governmental jurisdictions are competing for new development by lowering their impact fees, this could cause a "race to the bottom" whereby the impact fee ceases to be a viable revenue source for affordable housing. Cities in the Bay Area are now coordinating with each other in order to avoid this scenario. The following jurisdictions are collaborating on a Nexus Study that will make the legal case for impact fees, as well as suggest the level of impact fee for each community that would minimize competition between cities.
Santa Clara County, Alameda County, Los Altos, Saratoga, Fremont, Albany, Union City, San Leandro, Santa Clara, Milpitas, Concord, Hayward
Do government fees raise the cost of housing?
One objection to impact fees and inclusionary requirements is that they raise the cost of new housing.
Vu-Bang noted that it is the market not the fees that determines the price of housing. If there were two equivalent neighboring developments where one project was required to pay fees and the other was not, the market would dictate equivalent prices for apartments. Since demand is so far ahead of supply, the market price does not reflect the presence or absence of government fees. Over time the higher cost of production due to government fees is reflected in lower property prices.
Reduced parking requirements and unbundled parking
Unbundled parking means that residents of condos or apartments can pay for a parking space separately from their living space. The resident can opt out of paying for the parking. There are increasing numbers of people who desire living spaces that don't include parking spaces. Reducing parking requirements for new development allows developers to meet this market demand.
When reducing parking requirements, it is essential to protect neighboring areas from spillover parking. That can be done through residential permit parking. Unbundling parking and reduced parking requirements contributes to housing affordability as well as reduced auto traffic.
Prop 13 Reform
In the discussion it was noted that in the aftermath of Prop 13's constraint on property tax revenues, cities prioritized retail development over housing in order to capture sales tax revenue. Some reform is needed to alter the financial disincentives for housing development.
CEQA and Housing Development
Bob noted that some interests are calling for exemptions from the California Environmental Quality Act for housing development. Bob is not in favor of this approach, which he explained would enable large developments at the periphery of existing urban areas. Rather than encourage sprawl, he wants to encourage infill within existing urban areas. This kind of development is smaller scale.
Tools towards Sustainable Transportation
Bob pointed out that good public transportation and bicycle and pedestrian infrastructure cannot overcome bad land use policies. So we need to correct land use policies that are auto-centric. If we continue to privilege auto travel above other modes, that's the mode that we're going to get. Prioritizing other modes includes charging the true cost of parking and auto travel. It also means creating transit routes and corridors where buses/vehicles don't get stuck in traffic.
Transit passes for new development
Santa Cruz has an example of a new development that was approved on the condition that the developer provide bus passes for all residents. At Pacific Shores Apartments on the far west side, residents have a transit pass that records each ride on METRO. The building owner pays based on the number of trips.
Green TRIP and Green TRIP Connect
Transform, an advocacy group for sustainable transportation, developed Green TRIP, a set of tools for new development to reduce auto trips. These include reduced parking requirements; transit passes; and encouraging car-sharing, bicycling and walking. Communities including Sunnyvale, Richmond, Berkeley, and Emeryville have incorporated Green TRIP strategies in their land use policy.
Green TRIP Connect (http://www.transformca.org/landing-page/greentrip) is "an online tool allowing users to instantly calculate how smart location, affordable homes and traffic reduction strategies can reduce driving and greenhouse gas emissions from residential development throughout California. It also calculates how much money and space can be saved from right-sized parking in the Bay Area."
On demand shuttles
Bob is working to get pilots going that would use the technologies of on-demand ride services to operate shuttles or van pools. Such a program might be run by a nonprofit in coordination with transit agencies.
Use rich text editor Multiple item entry (Return separates items)