The Terms of health-care debate must be shifted
by Dennis Kudinich
The Nation, March 2017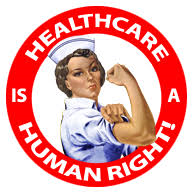 The health-care debate in America is essentially an argument over what kind of private insurance market people should have access to: President Obama's, where the insurance companies made out like bandits, or President Trump's, where insurance companies will make out like bandits.
Let's change the debate by making it between for-profit insurance vs. not-for-profit health care. That's what I and Congressmen John Conyers and Jim McDermott sought to do in 2003 when we wrote and introduced Medicare for All, HR 676, in the House of Representatives.
...........
Here is what the for-profit insurance system brings:
Rising premiums and co-pays.

Diminishing coverage.

More government subsidy of private insurers.

Rising costs for prescription drugs.

More people going bankrupt because of hospital bills.

More people losing their homes because of hospital bills.

More seniors forced into poverty, losing everything they worked for their entire lives.
This is not about Democrats vs. Republicans, liberals vs. conservatives, left vs. right. This is about life vs. death. To read the entire article: thenation.com/article/saving-obamacare-is-not-enough-we-need-medicare-for-all/

Use rich text editor Multiple item entry (Return separates items)