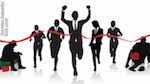 Runaway inequality gives the richest of the rich the nerve to deploy tax loopholes to reduce their taxes. They also have the power to subvert democracy by preventing politicians from eliminating these enormous giveaways. The most egregious example, the "carried interest" loophole, allows billionaire hedge funds and private equity managers to avoid billions in taxes that the rest of us, of course, have to make up. By allowing these billionaires to declare ordinary income as capital gains, this loophole drops their top rate drops from 39.6%, to 20%. We're talking big money.
Here's how it plays out. The top 25 hedge fund managers in 2013 collectively took in $24.3 billion dollars. For starters, that gives them an average income of $467,000 an hour. They make as much in one hour as the typical American makes in 9 years!
Their carried interest loophole reduces their taxes about $4.8 billion a year. How much is that in human terms? It's enough to hire 175,000 pre-school teachers a year or 76,000 registered nurses. Instead, it goes into the pockets of just 25 billionaires for no reason at all, except one ? they want it.
Both Democrats and Republicans refuse to touch the loophole. But they welcome with open arms the fat donations that come from the billionaires they are protecting.
Use rich text editor Multiple item entry (Return separates items)