Eight PDCers turned out to support the Dominican nurses' call for better preparation to protect nurses
and patients dealing with Ebola cases.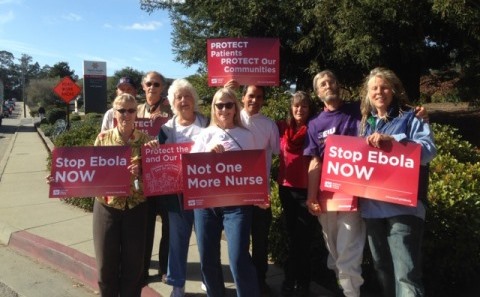 Mathilde Rand, Ron Pomerantz - in back row with only his hat showing, Brian Murtha, Franciso Rodriguez, Jeffrey Smedburg, Nancy Abbey, Judy Geer, and of course, Nora Hochman our intrepid PDC member and California Nurses Association union rep who kept us all inspired.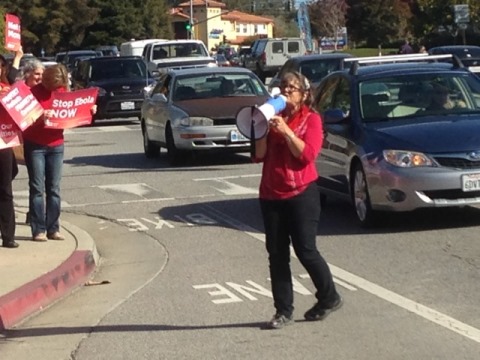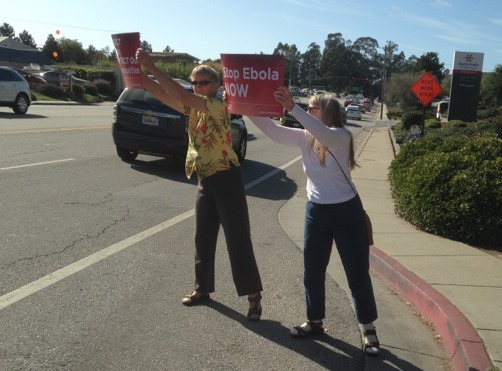 Judy Geer and Mathilde Rand adding
some zest to the picket line.




November 14, 2104

First of all, I want to acknowledge both Bruce and Leonie for running as smart, honest, and caring candidates. Furthermore, I want to express how much I respect all of us who enthusiastically supported and contributed to their noble campaigns.
To my mind it is now of great importance to agree that the lessons of this election couldn't be clearer, no matter how we might try to spin it otherwise, for example:
1. Sweeping the election with nearly 60% of the vote last Tuesday, the busine$$-as-usual conservative city council majority (http://www.santacruzsentinel.com/Opinion/ci_26704232/Editorial-Oct-12-2014:-Chase-Noroyan-and-Terrazas-for-Santa-Cruz-City-Council) remains firmly in charge.
This trend would seem to raise serious questions about the state …
Use rich text editor Multiple item entry (Return separates items)