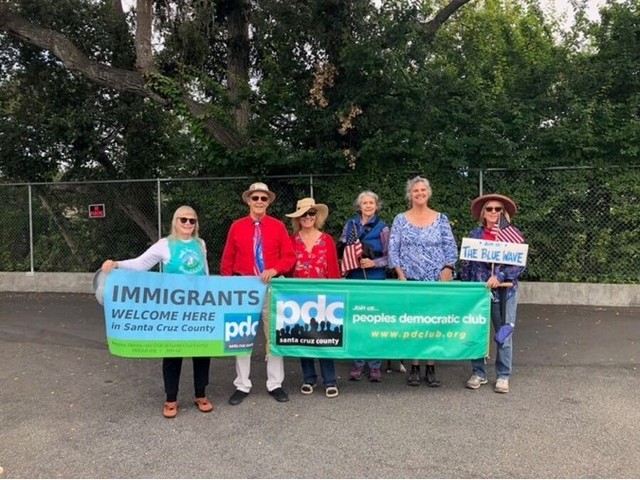 On the 4th of July, PDC showed spirit and dedication by participating with the local Democrats. The crowd was lovely and cheered for us. Pictured here from left: Judy Geer, PDC president Brian Murtha, Sandra Nichols, Gail Jack, Denise Elerick and Ellen Murtha. What great banners and smiles we have!
PDC MEMBERSHIP ZOOM MEETING
February 11, 2021
Attending: Brian, Franco, Gail, Nancy, Anne, Judy, Pauline, James, Randa, Lee, Nora, Marcia, Brian, Ron, Andrew, Sandra (apologies if I missed anyone)
Meeting is focused on talking about important issues Club members want to focus on during 2021. There was no lack of ideas presented and a robust conversation followed all suggestions.
Members discussed the following:
Housing and homeless issues
Environmental concerns, e.g. new City of S.C. Climate Action Plan is now being worked on, reducing car trips and conversion to more electric cars in use, plastics recycling. Pauline provided a web address for more information on plastics:
https://scruzclimate.org/reducing-plastic
Saving the Post Office
Advocating for Medicare For All, and/or CalCare, …
Use rich text editor Multiple item entry (Return separates items)